Woods ranger
Posts: 167
Joined: Wed Sep 30, 2015 8:30 am
Wow that is one poor bastard!
---
Pack leader
Posts: 14926
Joined: Thu Jun 16, 2005 4:43 pm
The values are mostly placeholders
Anyway the map is starting to work, needs some tweaks but seems fine. I am thinking to use a more "open-world" approach, a bit like the first game where you could do different quests at once, and the main plot wouldn't go on until you finished certain ones.
I'll be alternating coding with some writing/planning depending on the mood, and of course if I get news from either Cursed Lands or Love Bites I'll pause to work on them since they have the priority
---
Pack leader
Posts: 14926
Joined: Thu Jun 16, 2005 4:43 pm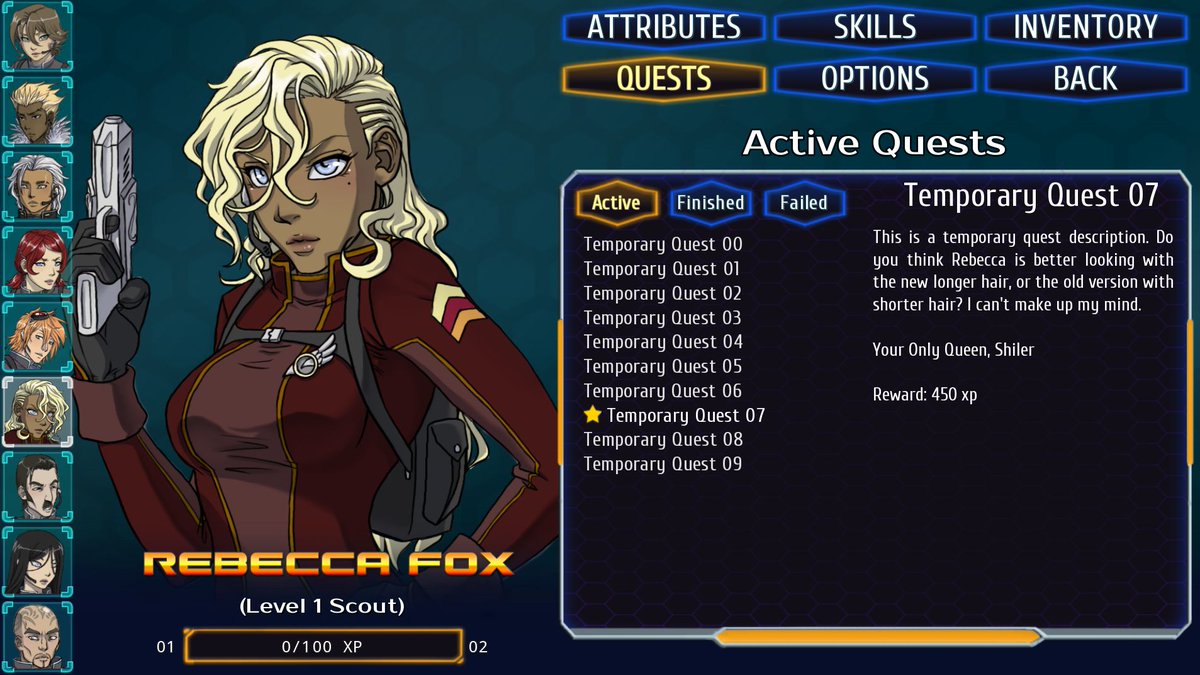 Finished redesigning the quest screen. Lol before was still showing the old textbook from the fantasy GUI, slightly out of place
Don't mind the texts since is just a temporary placeholder... but the question is real!! Rebecca was better with shorter hair, or with the new long hair? this is a crucial problem for the future of Planet Stronghold!
---
Elder Druid
Posts: 957
Joined: Fri May 06, 2011 2:23 am
Hey, are we going to be starting at level 1 again? I know importing level data from PS1 would lead to all kind of balancing nightmares, but maybe you can "fake" part of it by having us start at level 5-8 or something and just tune everything around that and adjust exp and exp/level appropriately.
---
Pack leader
Posts: 14926
Joined: Thu Jun 16, 2005 4:43 pm
Importing data from PS1 wouldn't be possible at all since we use a completely different system here
I'll see if makes sense to give a starting boost, considering I'm planning to allow up to level 50, gaining a few levels in the beginning shouldn't be a problem in this game. But it's a minor detail since in practice in all RPG (even AAA ones) you always start back to level 1
Anyway for this game shouldn't be a problem.
---
Elder Druid
Posts: 957
Joined: Fri May 06, 2011 2:23 am
Well, technically the Mass Effect series didn't start you at level 1. Even though the combat system changed between 2 and 3, you kept your level and began with some skill points if you played the previous game. But then the game was tuned that the majority of your level skills were earned from playing the current game.

That's where I got the idea. It's a little weird to always reset to 1 instead of something reflecting how the characters grew from the previous game's experience. Even if the difference is just cosmetic (like you start at 10 and level to 60, but the number of skill points you get in the end is roughly the same, because you adjusted the base values downward and changed the combat system so nobody would notice).
---
Pack leader
Posts: 14926
Joined: Thu Jun 16, 2005 4:43 pm
Yes I understand what you mean. I still have to decide how skills will work to be honest
But starting at a higher level and tweak the progression as consequence should be good.
---
Druid
Posts: 388
Joined: Fri Jun 14, 2013 12:30 am
I don't think starting at a higher level is necessary unless you designed character levels and progression in such a way that starting at the bottom is very rough. I think levels are a reflection of a character's experience during the course of their current adventure, not necessarily what they had prior to that.
---
Pack leader
Posts: 14926
Joined: Thu Jun 16, 2005 4:43 pm
Well it seems the vast majority of people agrees with you:
https://twitter.com/pcmacgames/status/9 ... 2688731142
only 15% said that's not OK to start back to level 1, while the others are OK or indifferent
In this case it could also be explained by plot reasons - several years have passed since the events of the first game, and the various characters had no reason to fight anyone. This could get skills a bit rusty. Anyway, I think I'm going to start to level 1 but quickly gain a few levels, since there are 50 levels and in this game I'd like to have level up occurring more often.
---
Elder Druid
Posts: 1364
Joined: Fri Nov 30, 2012 3:07 pm
You could just have more skills already unlocked at level 1, to say that these people aren't total greenhorns.
---