Elder Druid
Posts: 761
Joined: Sun May 04, 2014 9:58 pm
Woot! Sounds even more promising. Thanks for the answer :D
---
Pack leader
Posts: 14914
Joined: Thu Jun 16, 2005 4:43 pm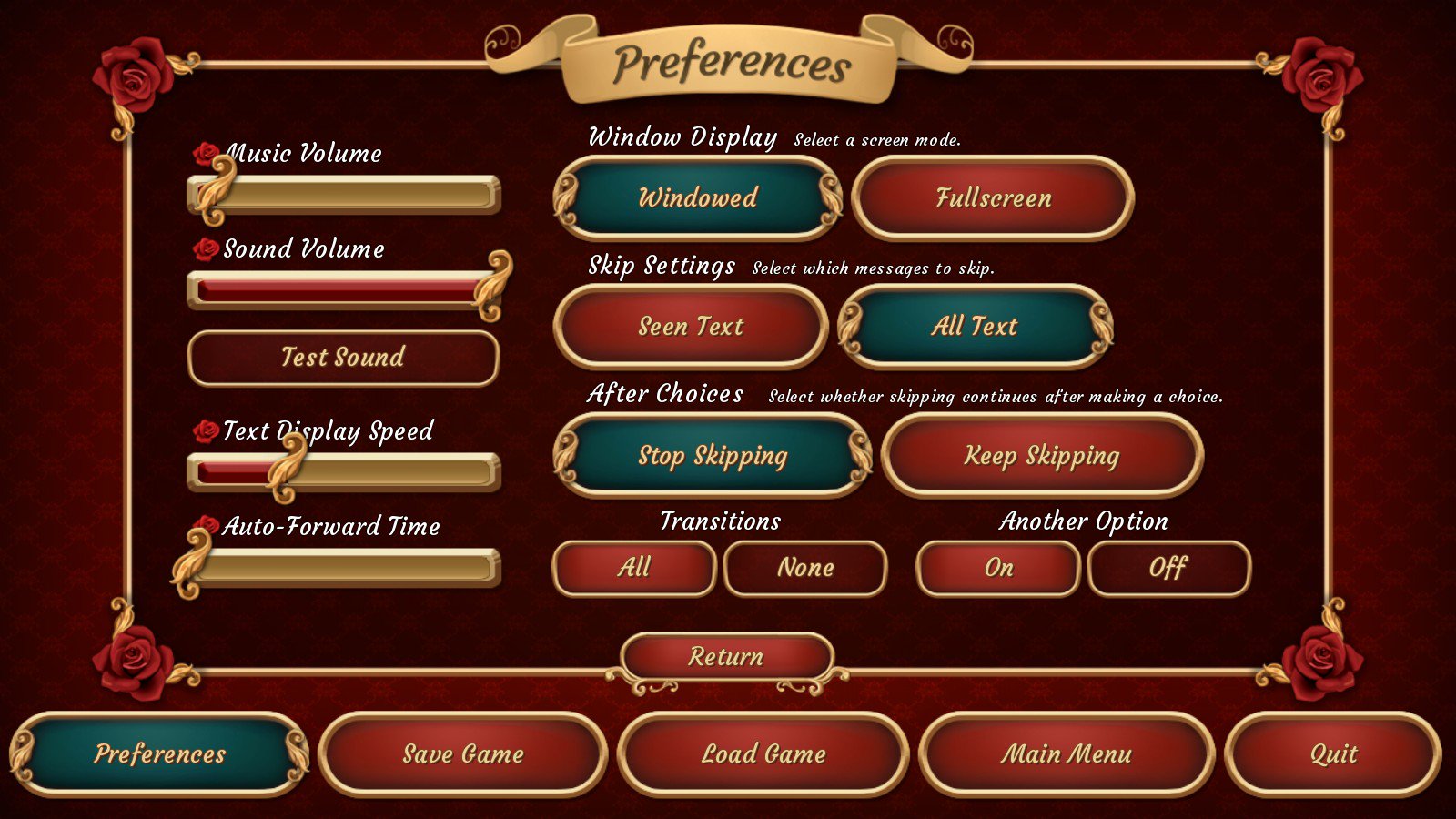 the GUI for this game turned out so good! I must reuse it for other future games
---
Young scout
Posts: 87
Joined: Thu Nov 08, 2012 8:19 pm
Looks great! Extremely feminine, but great!
---
Woods ranger
Posts: 150
Joined: Wed Feb 16, 2011 1:44 am
That's...... perhaps the best looking UI I've seen so far.
Looks like it belongs in the Austrian Imperial court or something
---
Druid
Posts: 275
Joined: Wed Jan 14, 2015 7:32 am
---
Woods ranger
Posts: 167
Joined: Wed Sep 30, 2015 8:30 am
Agree that GUI is really nice, easy on the eyes and easy to understand.
---
Young scout
Posts: 52
Joined: Mon Dec 02, 2013 7:44 am
I don't know whether you're aware, but while the screenshots look lovely you're taking a bit of a risk. It has been suggested that large sections of italic font decreases readability, which is one of the reasons you usually see it as a form of emphasis or to denote something is different. But every screen I've seen from this VN is in italics, which could be off-putting to a section of potential buyers (I'm not talking about your core fans, here.) So you might want to quickly check that doesn't affect people negatively
Italics font makes for a beautiful script, so if it's incredibly pretty to the eyes you'd have to assume there's a pretty strong downside to match, otherwise we'd see it in books and games everywhere. But we don't ... not in large sections anyway.
---
Pack leader
Posts: 14914
Joined: Thu Jun 16, 2005 4:43 pm
Ah OK thanks for the info. It is actually the font design itself, which makes it look like italic indeed. But while I'll keep it in the options/menu I can always change it for the main dialogue window
---
Pack leader
Posts: 14914
Joined: Thu Jun 16, 2005 4:43 pm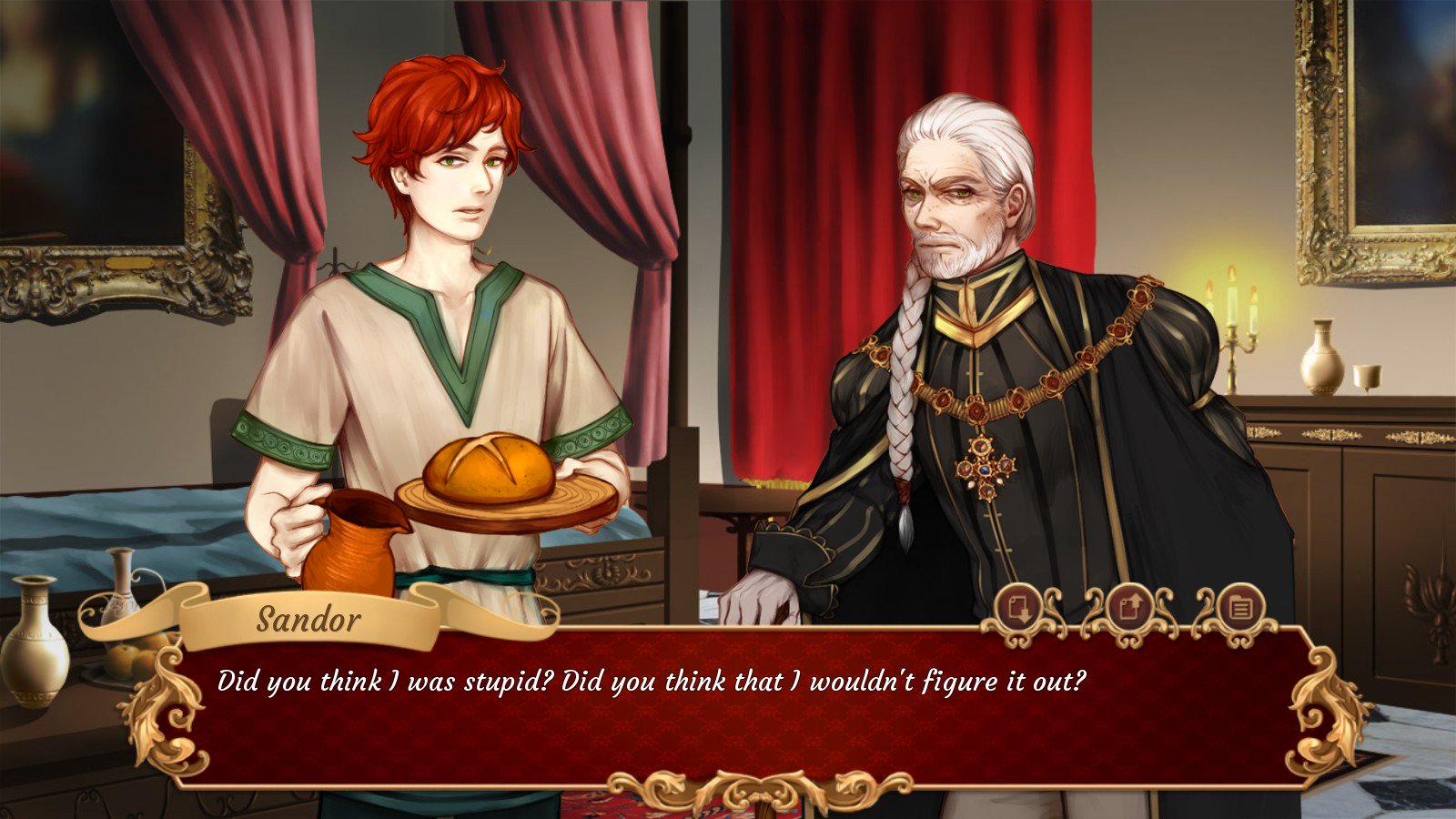 started working on this officially, doing the scheduler/gameplay/basic testing. It has already been completely scripted. Maybe beta will begin at end of April
---
Woods ranger
Posts: 150
Joined: Wed Feb 16, 2011 1:44 am
Admit not my favourite genre -but- as I really -really- love (what I've seen of) Silverhyena's previous work (especially Mira's magical mishap (Though Sacred Sand was good too) this would be foolish to miss out on

That the art here is -really- well done and the game looks so nice already helps too. ^^ Another mustbuy from WW
---